Kids-Move presents: "Catch A Brain Wave!" [Booster-Blast!] Fitness Fun – a unique "brain-based" Daily Physical Activity experience.
Ideal as a kick-off to your school-based fitness program, and in support of district-wide educational initiatives!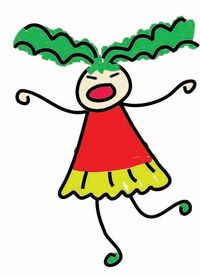 This hugely motivating movement-to-music presentation incorporates high-energy workouts from RONNO & Liz J-T's award-winning recordings, all designed to promote quality physical activity in a majorly FUN way, while also encouraging healthy nutritional choices. The highly interactive, guided movements featured include many shown by recent research (e.g., Brain Gym ®) to enhance learning, increase focus, and build confidence.
This energizing fitness experience is particularly suitable for grades k-4. We can tailor the presentation to target specific ages/grades to meet the needs of your audience. Contact Kids-Move to find out how to bring Kids-Move LIVE! to your schools!
Ideal in support of community-wide fitness initiatives by Departments of Health & Recreation, and any community-service organizations or corporations who share the goal of promoting active, healthy lifestyles.
Let Internationally acclaimed, multi-award-winning Kids-Move recording artists/performers bring their highly engaging and entertaining presentation to your community. Motivate, educate, and get kids – and all the young-at-heart – up and moving and having a great time! This hugely energizing, interactive movement-to-music presentation promotes quality physical activity and wellness in a majorly FUN way. Talk about a worthwhile and unforgettable community-wide event!
Talk to us
 about corporate sponsorship opportunities – a great way to show your organization cares about the well-being of your community, be it local, national, or international.
Here's what others are saying about the "Catch A Brain Wave!" experience:
"Their whole-brain and body approach to fitness also prepares my students to learn at their best capacity. What a bonus…and the kids love it, too!!!"
Ellen Smith, Wellness and Brain Gym Resource Teacher, Grove Elementary, Palm Beach County, FL
"It was an enthusiastic, interactive program that the students thoroughly enjoyed."
Karen Woroch, Teacher, A.R. Kaufman P.S., Kitchener, ON

Barbara Kennedy, Executive Director of Cardiac Health Foundation of Canada, says:
"Your program was amazing. Kids and parents loved it. You were such a hit that we are hoping that you would consider doing it again. Our first planning committee is next week and I'm sure that I will be asked if you would do it [in 2014]."
(Regarding the kick-off to Cardiac Health Foundation of Canada's Walk of Life, 2013)